Did you know that burglaries occur every 15 minutes in the United States, and a staggering 73 percent of them happen to residential properties? But worry not — we've compiled a list of crucial home security tips and prevention steps to take both inside and outside your property to protect it against invasion or burglary.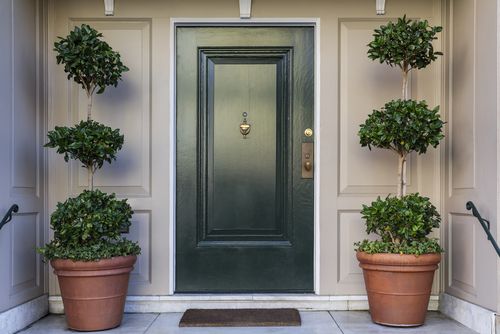 1. Secure All Doors
Approximately 33 percent of burglars enter through the front door.
There are several steps you can take to secure all doors in your home. But first, make sure you perform a thorough inspection of each door. It's important that all frames are strong enough to resist a burglar's attempts to break in. Rot makes it very easy for burglars to pry through, so remember to routinely inspect door frames for any such signs and replace them as needed.
Hinges should be set on the inside of the door so as to deter the burglar from knocking out the hinge pin. If there's too much space between the door and frame, consider reinforcing it with either a piece of sheet metal or a panel of 3/4-inch plywood. Alternatively, you can always switch to metal or solid wood doors that are at least 1 3/4 inches thick as they provide a higher level of security.
Install 1-inch throw deadbolt locks on all exterior doors. Moreover, doors with glass panels should be fortified, replaced, or secured with deadbolts that can be opened with a key only. Glass patio doors can be burglar-proofed with a pipe or metal bar set in the middle bottom track of the door slide.
2. Secure All Windows
Doors aren't the only entry points to your home — windows provide equally convenient access to burglars if not properly secured. The latches that manufacturers place on windows aren't always effective, so it's best to replace them with locks or key-operated levers. Once you're done installing either of them, consider dripping some solder on the screw heads. This will prevent any potential intruder from unscrewing the locks after cutting a hole in the windowpane. And, most importantly, make sure the windows are locked at all times, even when you're away for the briefest of trips.
It's a good idea to insert laminated or tempered glass as they're more difficult to break. If your home has sliding windows, reinforce them with a metal bar.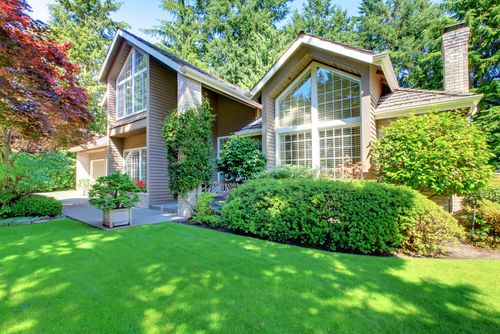 3. Eliminate Hiding Places
While shrubbery can add to the curb appeal of your property, it can also provide an easy hiding spot for the burglar when attempting to break in. Keep in mind that thieves usually need as little as a few minutes of cover to force their entry into your home, but the absence of a proper place to hide can deter them from even trying. A determined crook might also climb a tree and break into an upstairs window if branches are long enough. So trim down any trees, plants, bushes, or shrubs around or near doors and windows.
If you're particularly fond of greenery, why not pick dense, thorny shrubs or hedges to keep potential intruders off your property? Here's a list of beautiful — as well as extraordinarily useful — plants for your home exterior:
Osmanthus — a family of prickly evergreen trees and shrubs.
Crataegus monogyna — an impenetrable thorny hedge with white flowers in spring and red berries in autumn.
Pyracantha (Firethorn) — an evergreen shrub with spiny thorns that is very easy to grow.
Berberis (Barberry) — an evergreen shrub with spiny stems that will develop into a wonderfully dense and bushy hedge.
Chaenomeles (Quince) — another thorny shrub with spring flowers.
Ilex (Holly) — available in hundreds of distinct species, this plant is more prickly rather than spiny.
By giving a little extra thought to your landscaping design, you can help to make your property less vulnerable and deter potential intruders from attempting to break in to your home.
4. Protect Your Garage
If your home also has a garage, then it's extremely important to pay special attention to the different options you have to protect it. Garages are often vulnerable spots which can enable easy access to the rest of your home, making you, your loved ones and valuables more unsafe.
There is also a high risk of losing valuable items from your garage, as many of us use our garages to store expensive possessions such as sports gear, music equipment and power tools.
The first step to take is to secure your garage windows. Much like the windows you have in your home, garage windows should also be equipped with locks or key-operated levers. Installing hardwearing windows bars can provide an extra layer of security in the event that a burglar opens the window or breaks the glass. If you store any tools or high-value equipment in your garage, make sure you either cover or frost the windows to hide them away from prying eyes.
Garage doors that lift on a track should be secured with a C-clamp, which can be tightened on the track next to the roller to prevent anyone from opening the door and entering your house.
Pro tip: Keep a radio on. Noise indicates human presence, which can deter even the bravest of burglars from attempting to break into your garage.
5. Install Motion-Sensing Lights
It's no secret that burglars prefer operating in dark environments — they greatly disguise an intruder's identity, and also provide enough cover to prevent anyone from spotting them.
Instead of traditional landscape light posts, consider investing in lighting systems with built-in motion detection technology. These can be installed at the front and back of your home, as well as near any other entrance points such as doors and windows. Shine a spotlight on any potential intruder, and they'll surely be making tracks right away.
Burglars won't always be deterred by lighting, though, so it's important to place any security lights in hard-to-reach areas where they cannot be tampered with.
Pro tip: Don't forget the dark corners of your home, which burglars can safely use as hiding spots.
6. Rework Paths and Driveways with Gravel
Gravel is noisy to walk on, and can immediately alert you if anyone is approaching your property. If you're planning to rework your outdoor space design, consider adding gravel to your paths and driveways as this can be an extremely effective way to improve your home security.
You've got an extensive array of options when it comes to choosing gravel for your home exterior. Each type of gravel has its own distinct look, which can complement different styles of landscaping and architecture. This means you can easily combine aesthetics with function, and create a landscaping theme that's as burglar-proof as it is beautiful to look at.
Remember to keep both driveways and paths topped-up so that it provides as loud a noise as possible when walked on.
7. Install the Right Type of Peephole
Peepholes are an integral part of home security — and rightly so. It's common knowledge that it's not wise to open the door to a complete stranger, especially if you're not even able to see who's on the other side of it. That's where peepholes, or door viewers, come in, and why you should have one installed on your front door right away.
But not all peepholes are made equally. Sometimes, they're so tiny that they don't provide the best view of whoever is out there. Make sure you choose a wide-angle door viewer as it provides a full view of the person on the other side of the door.
8. Keep Valuables Out of Sight
If a passerby can see inside your home and get an instant inventory of your valuables, then a potential intruder can, too. That's why it's critical to rearrange your possessions, such as high-value electronics, so they're less visible from a door or street-side window.
But it's not just the valuables in your home that should be kept out of sight. The contents of your shed, as well as large or expensive garden items, can be of interest to burglars. One option is to anchor any outdoor ornaments or furniture to a hard surface with padlocks and cables. Fit any hanging baskets with cable ties, which will deter any opportunistic thief who isn't carrying scissors with them.
Items like grills, cars, and bicycles should be stored in the garage. While it might be a hassle to roll the grill in and out for every barbecue, leaving it outside makes it an easy target for burglars. And if it's got wheels, then it's even easier for them to sneak away with.
Pro tip: Invest in a bike store. They are spacious enough to fit a couple of bikes, but still take up less space than a shed. For added security, lock all bicycles up with a heavy-duty D lock that goes through the frame and both wheels so thieves cannot steal them.
9. Secure the Car
If you don't have a garage to store your car in, then the driveway or front garden will most likely be the next available option. Here, it's on display for all prospective burglars — especially if you've left any valuables inside. Driveway security posts or bollards provide both a visual and physical deterrent for vehicle thieves, and they make it quite impossible to steal your car.
Lockable posts are key-operated, meaning you need a key to remove them. Retractable posts can be simply dropped down into the ground when you want them out of the way. They're also key-operated, so they cannot be removed without the key.
Anti-theft wheel and steering wheel locks can also deter a potential burglar. It's best if you also put a sticker on your windscreen saying the vehicle is alarmed — nobody will even attempt to tamper with it if there's a high chance they'll get caught.
Pro tip: If you need to park on a road, always turn the wheels into the curb. When you park in a car park, turn the wheels towards another car. Thieves will be put off if it takes a lot of effort to actually move your car.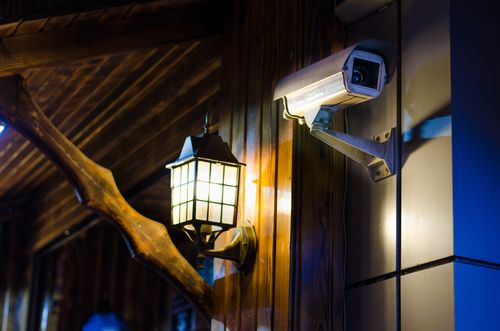 10. Install a Security System
There's nothing like a modern security system to keep burglars at bay. When choosing a security system for your home, always consider basic features such as motion sensors for doors and windows, alarms, surveillance cameras, and carbon monoxide and smoke detectors. While standalone window and door alarms are good enough to alert you if anyone comes near your property, it's best to get a complete alarm kit that can be fitted high up in the corner of each room. These alarm kits will sound the alarm upon sensing an intruder walking across the room or opening a door, and some give you the option to connect them to third-party security companies when this happens.
Make sure you also cover the back and corners of your home, as that's where many burglars will attempt to hide first to survey available entrance points and make their move.
If you're looking for a temporary solution, consider install an exterior dummy alarm or surveillance camera as these are often enough to deter any criminal. If it comes down to a choice between a property that looks as if it has an alarm or security cameras and one that doesn't, any burglar will choose the home that looks unsecured, every time. Even if they suspect it's fake, they're unlikely to be willing to take the risk.
Pro tip: Plaster stickers saying the property is surveilled and/or alarmed on doors and windows. Or, stick yard signs by the front and back doors.
Make Your Home a Safer Place for You and Yours
Your home should be a safe retreat, somewhere to feel contempt and secure. Don't risk the safety of your family. Take steps now to secure your home against any potential intruders. Contact the experts at Smart Shield Systems to discuss more about the different options you have to burglar-proof your home.