Though spring cleaning season is almost over, it's time to start on a year-round home maintenance program that will save you time and effort come spring. Keep this list of home maintenance tips handy during the whole year so you can check off each item as the season's roll by.
Winter Home Maintenance
Starting in mid-December, get a head start on your New Year's resolution to take better care of your home by taking care of a few tasks every month during the winter.
Late December
Install a freeze alarm to avoid frozen pipes: Unless you live in an extremely cold area, December is usually the first month your pump or pipes will be in danger of freezing. If you live in an area where your pipes might freeze and you have public water, install a freeze alarm in your pump house or outside where your pipes come into your house. If the alarm goes off, wrap the pipes in heat tape or put a heat lamp in the pump house. Never use a space heater connected to an extension cord, though. A space heater can overheat the cable and cause a fire.
Make sure the connections on your holiday decorations are secure: Loose connections on strings of holiday lights can be a fire hazard, says Ben Gromicko of the International Association of Certified Home Inspectors. If you keep a live tree, make sure you keep a smoke detector nearby to warn you if a loose bulb or other electrical problems give rise to a fire.
January
Inspect your water heater: Winter's not the best time for your water heater to go bad. Every year, flush it out to keep sediment from building up. Excess sediment can cause your heater to corrode, causing leaks and water damage. If you don't know how to check and flush your water heater, call a professional plumber. It's well worth the expense to have reliable hot water and avoid expensive water damage.
Clean the range exhaust hood and air filter: If you're like most people, your range has gotten a good workout over the holidays. To keep your exhaust working at its peak all year long, clean the hood and the filter in January, so it will be in great shape the next time the holidays roll around.
Test your toilets for leaks: Holiday guests can put a strain on your toilet's flapper or flush valve seal. Put about ten drops of food coloring in your toilet's water tank. Wait about 15 minutes—and don't flush it. If you see any colored water in the bowl, you need to replace the worn-out valve seal or flapper.
February
Deep-clean your home: Though spring may be the traditional time for deep cleaning, it's a great idea to get a head start on your indoor cleaning during February. Start by dusting or washing your ceilings. Take down your curtains and give them a good going over with the vacuum cleaner or throw them in the washing machine. Wash down or dust the walls, dust the corners well, and clean your floors. Deep-clean carpets and rugs with a steam cleaner. For extremely valuable rugs, consider having them professionally cleaned. Finally, clean out the oven, refrigerator, and freezer.
Test all AFCI and GFCI devices: Arc fault circuit interrupters (AFCIs) detect dangerous arcing in your home's electrical wiring and cut off the power to that circuit, preventing a fire hazard. Ground fault circuit interrupters (GFCIs) prevent electrocution in moist areas by cutting off the power when a ground fault occurs. Test these during the winter months, so you're all set for spring.
Clean the clothes dryer exhaust: When your clothes dryer filter and exhaust become dusty with lint, it becomes a fire hazard. While you're at it, clean underneath the dryer and the damper as well. Keeping your dryer free from debris inside and out will keep you from the risks of house fires, a huge problem in wintertime.
Early March
Check the weather stripping: Before spring arrives, you'll want to recheck your home's weather stripping, or check it, if you forgot to do so during the fall. Keeping cool air inside your home come late spring and summer is as essential to your energy bills as is keeping cold air outside during the winter.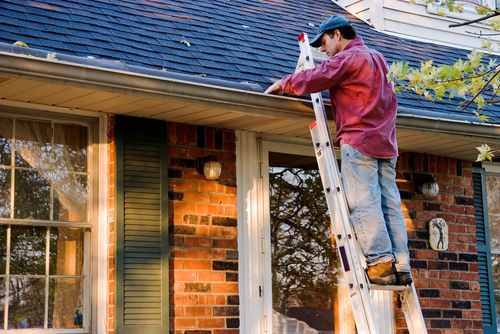 Spring Home Maintenance
The traditional time to spruce up your home, spring will be a breeze if you've followed our tips up to now.
Late March
Clean your gutters: Clean gutters keep rainwater away from your house, protecting your siding, roof, and foundation from water damage, says New York Times real estate expert Ronda Kaysen.  Before spring rainfall arrives, have your gutters squeaky-clean. If cleaning your gutters is a DIY chore, says Kaysen, be sure your ladder is a safe one. If you're at all unsteady or unsure on a ladder, hire a professional.
Inspect your home: The seasons, with their temperature variations, can take a toll on your home. Look for cracks in the concrete or blacktop on your driveway, walkway, or patio. Look for broken or loose shingles on the roof, says Kaysen. If you have a chimney, check it for crumbling brick. You might even want to invest in a good cleaning by a chimney sweep if you've used your fireplace a lot during the winter. Check the foundation and your home's exterior walls for cracks, water damage, or peeling paint. Make appointments to have all of the issues you find repaired.
April
Check window screens: If you like to open your windows to let in natural breezes during the springtime or on cooler summer days, check the screens for tears or holes that could let flies or wasps into your home. Many hardware stores sell repair kits that allow you to repair your screens easily.
Inspect your home's interior for mildew and mold: The excess moisture that comes from springtime rains can cause moist areas in your home to develop mold or mildew. Make sure to check your kitchen and bathroom caulking, as well as the walls, for signs of trouble. Replace it if you find any mold or mildew growing there.
Reseed your lawn and start your perennial garden: Springtime is the ideal time to reseed your lawn. The rains that come with springtime help keep young grass hydrated until it toughens up. Many perennials, too, do best when you plant them in the spring, Kaysen advises.
May
Get your AC serviced: Before summer's heat creates a backlog for your HVAC professional, get yours serviced early in May to beat the rush. Replace filters and make sure it's running smoothly to be ready for summer.
Check for termites and other wood-boring insects: Spring is usually the time that these destructive pests swarm. Have your pest control service check your home for possible signs and begin a year-round prevention program to keep your home pest-free all year long.
Have your lawnmower checked: Months of disuse can take a toll on your lawnmower. Have your mower repair technician give it a tuneup, sharpen the blades and check it for any serious problems. Make sure to check the oil every time you use it. Mowers, like cars, need an occasional oil top-up.
Early June
Start weed control: Put down mulch between the rows in your vegetable garden around your flowers. Mulch can help you control weeds, plus, as it breaks down, it adds nutrients to your soil. If you save your grass clippings, you can use them as mulch for your vegetable garden as well. Pick or hoe any stray weeds early to keep them from getting out of control.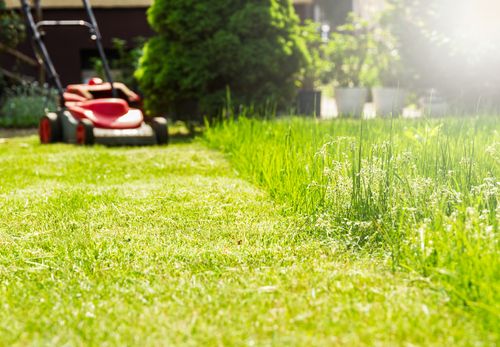 Summer Home Maintenance
Though summertime is made for fun, keeping up on your home maintenance schedule can save you time and money all year long.
Late June
Do a security check: Because summer is vacation time for most of us, that's often when burglars are on the prowl. Check your home for any vulnerable spots. Find a security system that will monitor your home while you're away at the beach or the mountains and notify you if anything suspicious occurs. Many home security system providers have complete security packages that will cover a wide variety of issues from burglaries to fire to your home's thermostat with cutting-edge smart home technology.
Paint if necessary: If during your home inspection you found peeling paint, you may need to do a touch-up or a completely new coat of paint. Before the peak summer heat arrives, give your home a fresh look. If you don't need to paint, consider washing down your home's siding to give it a renewed look.
July
Clean and inspect your patio and deck: Before your annual Fourth picnic, give your outdoor living space a clean sweep. While you're at it, check it for any loose nails or cracked wood. Repair any problem areas, and then hose it down. After your big shindig, hose it down again and seal it if necessary.
Clean out your pool: Before your summer guests arrive, strain out all the leaves and bugs that have accumulated over time. Make sure your treatment system is working well before the big day.
Plumbing checkup: As summer's heat causes your pipes to sweat, you may want to install pipe covers to keep the water from doing damage to your home. If a drip isn't fixed with a cover, have your plumber check the pipe for a leak. If you have someone watching your home while you're on vacation, schedule plumbing repairs for when you're out of town, so you don't have to go without water when all the family is at home.
August
Check and repair your roof: As summer starts to wind down, it's time to check your roof again to see if summer's storms have loosened any of your shingles. Repairing them now means that they will be able to seal before fall arrives.
Check your cable bill: Summer's nearly over, and the kids will be back at school before you know it. See if you can save money by getting rid of cable and switching to streaming services that allow you and your household to watch your favorite programs without the exorbitant costs.
Check weather stripping again: Before fall arrives, double-check your weather stripping, says Andrew Zoellner in Family Handyman. The extreme heat of summer can cause weather stripping to stretch, causing breaks in the seal. If you feel heat coming in underneath your door or window, chances are, you have a problem. Fix it before the fall chill sets in.
Early September:
Clean out the chimney from bird and squirrel nests: During the spring, birds and small animals often find their way into your chimney to nest. They're gone now but may have left parts of their nests behind. Clean your chimney before fall's chilly weather arrives.
Fall Home Maintenance
As you prepare for the leaves to drop and the temperatures to do likewise, it pays to be proactive so you're well prepared for the changes fall and winter will bring to your home.
Late September
Winterize or service your lawn tractor: Once the first frost arrives, you may not need your lawn tractor many more times. Have your lawn tractor winterized to keep it in tiptop shape during the fall and winter. If you plan to use it for snow or leaf removal, have it serviced to keep it running all winter.
Winterize your grill: If you don't grill during the winter, winterize it and pack it up for the winter. If it's a gas grill, don't bring the propane tank inside, since even a tiny leak can cause an explosion. Clean the grill itself and coat everything with cooking oil to keep rust at bay.
October
Check your carbon monoxide and smoke detectors: Change your batteries and check the date on the detector. If it's near time to replace it, do so now.
Store firewood well away from your home: Remember our termite check in the springtime. Don't set out a dinner invitation for the pests with a pile of firewood close to your home. Keep your firewood at least 20 feet away from your home.
Re-check your home's paint: Summer heat can cause your home's paint to blister or peel. If you find any signs of paint problems, have your home painted while the weather's relatively warm.
November
Take inventory of your energy consumption: As cold air starts to become the norm and days get shorter, you'll consume more energy. Track your energy use to see if there are any areas in which you could cut down your consumption.
Clean out your gutters: After the last leaf has fallen, clean out your gutters again. It will keep late autumn rains and melting snow from damaging your home's foundation and other structures.
Service your furnace: Before winter's cold sets in, make sure your furnace is in tip-top shape. Have an HVAC professional check your equipment and replace your filters to make sure it can handle the coming cold.
Early December
Vacuum your refrigerator's coils: Dusty coils can cause your refrigerator to run overtime, causing it to break down prematurely. Before the holiday guests arrive, vacuum the coils to make sure your fridge is in peak condition for holiday parties.
With this list of home maintenance tips close by your side all year long, you can reduce your spring spruce-up to just a few tasks, giving you more time to enjoy your home all year long. To learn more about how you can protect your home against some of the more common risks during the year, contact Smart Shield Systems today.