With the growing number of senior citizens living alone, it has become essential to adopt proper home security measures to ensure their safety and welfare. With today's great technological advancements, ensuring their safety is no longer an impossibility! From smart door locks to intercom systems, there are plenty of home security gadgets for a safer and more convenient lifestyle. In today's blog, we will discuss the benefits of home security for seniors and the elderly.
Why Should I Be Concerned About the Safety of Seniors?
Senior citizens are one of the most prominent targets for crime. Due to the natural phenomenon of weakened eyesight, reduced hearing, and lessened strength, older individuals become targets for criminals. Below are some reasons why one should be concerned about their safety:
→ As the human body ages, it becomes more difficult to project a confident image or defend oneself
→ Seniors may suffer from Alzheimer's, dementia, or mental impairment
→ Seniors may find it more difficult to communicate verbally
The Most Common Crimes Against Seniors
In order to protect seniors and the elderly, it's important to first identify the most common crimes against senior citizens. According to research done by the Bureau of Justice, the elderly are mostly victims of crimes driven by monetary gains. Below is a list of common crimes against seniors:
Break-ins
Mail scams
Identity theft
Identity fraud
Property-related theft
Abuse
Break-ins
Install a Home Security System
The most effective way to ensure the safety of seniors in their homes is to install a reliable home security system. Good home security consists of the following elements:
Security cameras to monitor the activity inside and outside your home
Motion exterior lights to deter criminals
Alarm systems (burglar alarms, fire alarms, carbon monoxide alarms, etc.) to keep seniors safe
A typical home security system comprises a central monitoring system with alarms. The centralized systems monitor the windows sensors, door sensors, cameras, motion sensors, alarms, and more. In the event of an intrusion or accident, the home security system will trigger a notification to the homeowners, emergency response team, or law enforcement.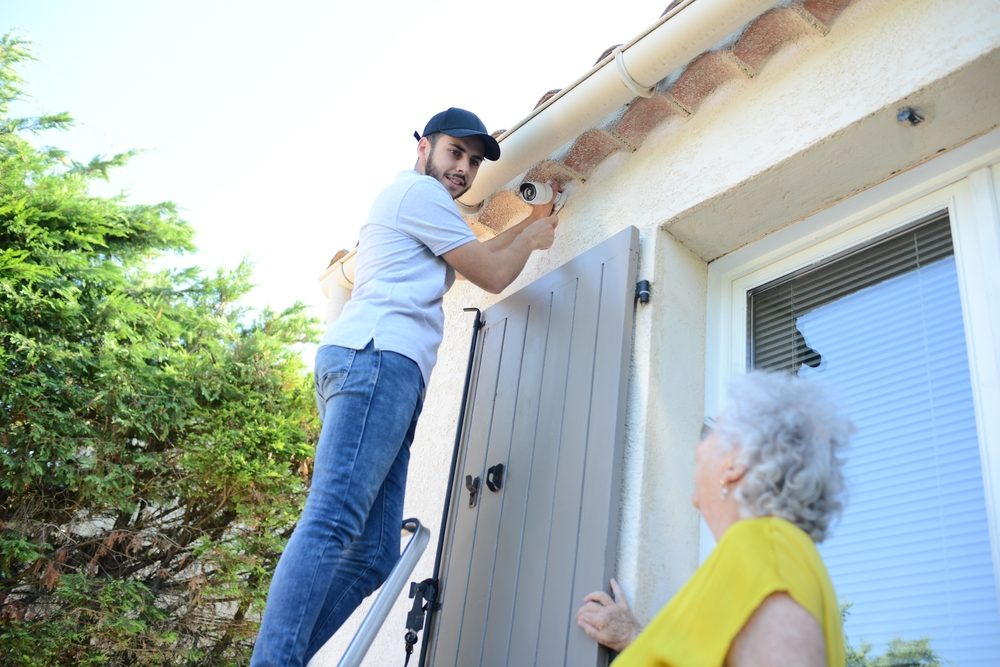 Home Automation for Seniors
Home automatons can make the lives of seniors significantly safer and more accessible. They can handle their daily tasks with greater ease and enjoy more independence. Examples of home automation technology that can help improve their lives include the following:
Smart Door Locks – Smart door locks give you the ability to control all doors in your home, no matter where you're at. Plus, you can also create multiple door passcodes for caregivers and other family members.
Smart Doorbells – Seniors can use smart doorbells equipped with video footage, microphones, and speakers to communicate with visitors and delivery agents. This is especially beneficial for seniors who have mobility issues.
Smart Lights and Switches – You will not have to worry about seniors walking around in the dark, risking an accident. They can easily control the lights in the house via voice commands or their smartphone.
Having a home security system installed in your house will make a world of difference for seniors and family members with mobility problems. It'll increase their safety and let them enjoy a more convenient, independent life. We hope this blog helps you see the benefits of home security for seniors. If you have seniors in your household and would like to improve their safety and well-being with a home security system, Smart Shield Systems is more than happy to help! Give us a call at (855) 729-4407, or click here to request a FREE quote today! We look forward to helping you achieve your home safety goals!